Originally published on Olea.com
Until May 2018, a federal law known as the Professional and Amateur Sports Protection Act (PASPA) limits most legal sports betting to Nevada and three other states. That (PASPA) was overturned by the Supreme Court in favor of New Jersey, allowing state-sponsored betting.
What to Expect in a World Where States Can Legalize Sports Betting
Anticipating PASPA's repeal, a handful of states have started the process by passing enabling legislation. Pennsylvania is one notable example. These changes to the law are paving the way for states to start offering legal sports betting in the next couple years.
What can we expect the future of sports betting to look like? According to a May 2017 Oxford Economics report, legalized sports betting is projected to generate $8.4 billion in new tax revenues, create more than 200,000 new jobs and add over $22 billion to the nation's GDP. With a budding new industry on the horizon, businesses are working tirelessly to capitalize on the new opportunities being presented in the world of sports gambling.
Casinos will need to be well-prepared for the influx of new customers that will be flocking to their venues in hopes of placing their first legal sports bet. As a result, many casinos are finding that sports betting kiosks provide the needed automated self-service solution to handle a higher volume of sports wagers without requiring the need for additional customer service staff.
The Impact of Sports Betting Kiosks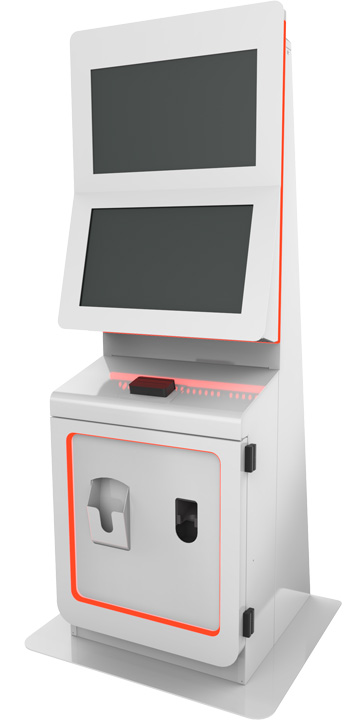 With such anticipated economic growth in the gambling industry, casinos will need to do their best to streamline their betting services. Sports betting kiosks will be a key factor in perfecting this process as they will improve the customer experience and will increase betting revenues for operators.
Wagering kiosks will improve the customer experience by cutting down wait time. Customers will not be waiting in line to place a bet. With multiple betting kiosks available, customers will be able to place a wager whenever they please. In turn, this will also increase revenue with more total bets placed.
Benefits of Betting Kiosks
Line queue management for burst cycles
Increased betting revenues for operators
Higher wagering levels
Operators optimize their labor costs
Accept cash, winning tickets, and vouchers
Provide ADA accessible betting options for customers
"The kiosks increase guest frequency and the duration of their visits," explained Gary Costello of the Bounty Hunter Taverns, a satisfied smile on his face. Wahoo's Fish Taco owner Paul Kraft seconded that thinking: "They (kiosks) keep people in my place longer."
Kiosks are also pumping up the volume of sports betting. By providing a fully self-service interactive option for placing sports wagers, these kiosks ensure that more players can place bets without requiring additional staff to personally handle the increase in wagering volume.
For casino resorts, digital kiosks are not only useful for placing wagers. These complex machines also feature pinpoint-accurate wayfinding capabilities that can help guests navigate quickly to and from each amenity. With so many different attractions available in a casino, it can be overwhelming for customers to navigate at times. With the easy-to-use interface of a casino kiosk, customers can quickly find what they are looking for without having to ask multiple employees for directions or information.

Additionally, full-service casino kiosks can also quickly enroll its users into customer loyalty programs.  Many casinos now rely on their loyalty programs as a cornerstone of their revenue, with one casino reporting $6.4 billion in annual revenue from their loyalty program.  Using gaming kiosks to provide an easy-to-use self-service method of enrolling customers into loyalty programs has proven to be an invaluable revenue streams for many casinos. 
Venues for Sports Betting Kiosks
Land-base and Riverboat Casino
State Lotteries
Racetracks
Taverns and VLT Facilities
Tribal Casinos
The venues listed above are the first to begin implementing sports betting kiosks into their business, however as legal sports betting increases its popularity overtime, we can expect this list to grow. Like Las Vegas, throughout the rest of the United States, it may become more and more common to see a sports betting kiosk at the airport or at your local convenience store.
Start Preparing for the Future in Betting Today
Many gambling industry leaders are seeing big profits and satisfied customers because of their deployment of sports betting kiosks. The future is turning to automation, which will make for a better customer experience and will cutdown on overhead costs. Contact Olea Kiosks, the leader in sports betting kiosk manufacturing, for a custom solution consultation.